Hinged Security Door
(diamond grille)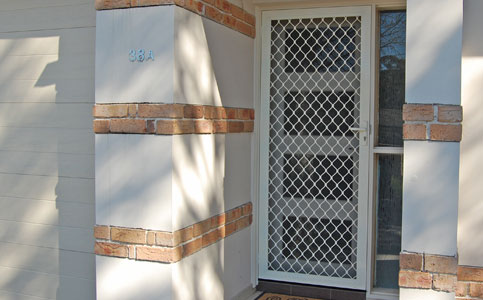 Security Door Specifications:
Diamond grille
Deadlock levered handle.
Heavy duty aluminium frame
Bug seal to bottom of door
Includes flyscreen
$600
Quick Contact
Product Close-Up:
Possible Extras:
Beading around door jamb.
Purpose: Allows security door to close against and create a proper seal. Unless existing door jamb has a rebate you will need this.
$50
Optional Extras:
Triple lock
Purpose:
Provides 2 additional locking points to side of door, Whitco security door lock is standard for all doors
$150
One way vision mesh
Purpose:
Provides privacy as visitors cannot see in from outside front door. Allows clear vision for you when looking out
$150
Door Closer
Self closing device
Adjustable closing speed
Stay Open System
$50
Dog/Cat Doors
Magnetic closure, 6 colours available
Suitable for dog & cats
Small door is suitable for cats & smaller dogs
(opening size of door is 190mm wide x 240mm high)
Large door is suitable for slightly larger dogs
(opening size of door is 260mm wide x 400mm high)